Women Crushing it in the Wine Business
I love this saying by Laurell Hamilton, "They say that there is no light without dark, no good without evil…" These are dark times for sure, but I really believe that they will be followed by light, and I'm already seeing the signs, I mean vines 🙂 Women are crushing it in the wine business! The wine industry has largely been a male dominated industry, but here's a snap shot of women, who have infiltrated this old boys club, and are setting roots. The following has been excerpted from Wine Enthusiast Magazine.
Meet Krista Scruggs, Owner/Winegrower, ZAFA Wines, Vermont
The motto (excerpted from Zafa Wines website)
Wine Is Farming
HI, MY NAME IS KRISTA AND I FARM AND FERMENT GRAPES.
I ALSO FORAGE AND FERMENT APPLES. I SOMETIMES FERMENT THEM TOGETHER.
NO FINING, FILTERING, ADDITIVES, OR FUNNY BUSINESS IN THE WINERY.
NO HERBICIDES OR SYNTHETIC PESTICIDES IN THE VINEYARD.
JUST FUCKING FERMENTED JUICE FROM RESPONSIBLY FARMED LIVING FRUIT.
Krista was on a path to become a firefighter and she's now vineyard manager of Ellison Estate Vineyard and owner/winegrower of ZAFA Wines in Vermont.? Wait what?? In a funny twist, a friend helped Krista obtain a position at Constellation, and the rest is so juicetory! Thanks for the inspiration Krista!
Is there one woman, in the industry or outside of it, who has inspired you throughout your career?
Deirdre Heekin, or ?Queen D.? Mentorship has been and will forever be the most important role in my life as a winegrower/farmer, because I feel I will always be a student. Having the opportunity work beside Deirdre in the vineyard and winery has been life changing. To taste beside her and constantly learn and grow via talking about the big things and the little things, including navigating being a woman in this industry, has been transformative.
Don't you love this! A woman mentoring another woman in the wine industry! I myself have reached out to some females for mentoring,? with no luck. Queen D, I salute you!
Meet Viviana Navarrete, Chief Winemaker, Vi?a Leyda, Leyda Valley, Chile
Viviana studied Agricultural Sciences specializing in wine-making. She is chief winemaker at Vi?a Leyda where she's considered an innovator. Viviana is one of the Chile's few winemakers to produce award winning Sauvignon Gris and Riesling. The following Q &A is excerpted from Wine Enthusiast Magazine.
Do you think women make wine differently, or make different wine from men? If so, how?
I am sure that women make wines of different styles than men. I think we make less extracted wines. Rather than big blockbuster styles, we look for more finesse. Personally, I make wines with more minerality, freshness, vibrancy and identity rather than big structured wines. And that fits perfectly with Leyda Valley?s grape varieties, which are Pinot Noir, Sauvignon Blanc and Chardonnay. So, both my style and what I want to express from this terroir matches perfectly: wines with elegance and finesse.
Wow.? I never really thought about how gender could affect wine styles. My limbic system is getting super pumped over the thought of? hosting a wine tasting party, where the objective is to try and guess if the wine-maker is male or female!! Woot woot. Let's do this!
Side bar: This pic is from Vina Leyda's website. This pic is listed as "team." Notice anyone missing?? LOL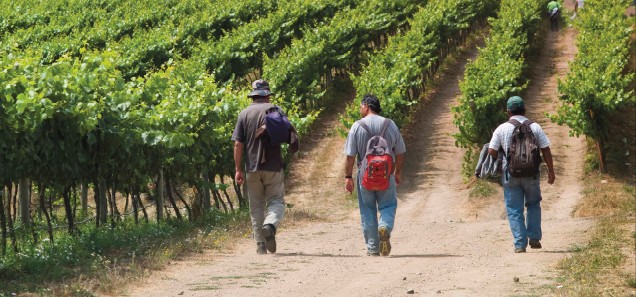 Meet Andrea Mullineux, Owner/Winemaker, Mullineux & Leeu Family Wines, Swartland, South Africa
Andrea studied viticulture and oenology at UC Davis.
What is it like to be a female in a male-dominated industry?
When I was younger, I used to overcompensate for the fact that I was a bit smaller than my male counterparts and would work extra hard to command respect in the cellar. That has helped me to get where I am today. I still come home with wine stains and rogue grapes in the folds of my shorts during harvest. It is important to show that nothing is a challenge that cannot be overcome in the cellar, and as a woman, I sometimes have fresh ideas on how to get things done and notice things that others may have missed because I am coming at it from a different angle, literally and figuratively.
"Rogue grapes in the folds of my shorts," sounds like a book title to me!? Andrea started out in Napa and landed in South Africa.
Meet Gabrielle Bouby-Malagu, Deputy Cellarmaster, Champagne Gosset, Champagne, France
Gabrielle was raised by a farming family in Loire Valley. She holds a degree in enology from the French Wine and Vine Institute.
How have things changed, or not changed, for women in your region?
Champagne has always had women running houses, and not just famous widows. Suzanne Gosset, for example, successfully ran the business when her husband was a prisoner during World War II. Later, in the ?50s, she launched her own Champagne Ros?, originally in a clear bottle. It remains one of our most successful cuv?es.
Now I have another reason to love Champagne! This is the only black and white photo of the group. Doesn't it make her look more serious? Now look at the other photos in this piece. They are as diverse as the subjects, pretty cool.
Meet Andrea Le?n, Technical Director/Winemaker, Lapostolle Wines, Colchagua Valley, Chile
Andrea double majored in Economics and viticulture. She's worked in the US, Europe and New Zealand before landing in Chile.
Do you think women make wine differently, or make different wine from men? If so, how?
It is a bit of a generalization, as I think more than gender related, there is a very important cultural aspect of making wine that can lead to differences. Like the wines we are used to drinking, the food, the landscape where we grow up, for example. In general, I think women are more aware of the environment and can adapt quickly to changing conditions. We tend to think in longer terms. We are very detail-driven, perfectionists, and in a practical sense, that leads to making different wines.
Let's compare how different Andrea and Gabrielle answer the same question. In the beginning, Andrea tries to downplay the difference in wine style between male and female, but she ends her answer by saying that yes, women tend to make different style wines than men.? Viviana came right off the vine by saying yes, she believes women's wine styles are different.
Meet Stephanie Jacobs, Winemaker, Cakebread Cellars, Napa, CA
Stephanie is an enologist who attended UC Davis.
Is there one woman, in the industry or outside of it, who has inspired you throughout your career?
Absolutely: Julianne Laks. She?s been my mentor for the past 14 years and provided a special opportunity here at Cakebread Cellars. She?s was very technical and detailed, all while keeping her cool. She?s extremely knowledgeable in the field, and we worked very closely together.
And yet another UC Davis grad. UC Davis is one of the world's leading cross-disciplinary research and teaching institutions, located in Davis, California. UC Davis is a public research university and land-grant university adjacent to Davis, California. It is part of the University of California system and has the third-largest enrollment in the UC System after UCLA and UC Berkeley. Don't forget about the amazing weather 🙂
Meet Melissa Burr, Director of Winemaking, Stoller Family Estate, Willamette Valley, OR
How have things changed, or not changed, for women in your respective region?
There are certainly more women in the wine industry, compared to 10 years ago. There are so many opportunities for women to learn, travel and do vintages, take educational courses and get involved. Our wine team aims to have equal amounts of men and women on our harvest crew each year. At Stoller, there are more women than men employed across departments.
Melissa led the charge that increased Stoller's wine production from 1,000 to 60,000 cases! Clink Clink! Stoller Winery is the very first LEED Gold winery in the world, and it is also Live Certified!! Wonderful!! If you don't know what that means, google it 🙂
How do you like how they are represented in their photos? A fav? I like Krista's except for the distraction of all that crap in the background. Also, you can't really see her face.
All of these lovely ladies are crushing it in the wine business. I'm excited for the future of wine. Have you tried any of these wines? Do you have a fav? I'm a big fan of Cakebread anything 😉 The others I haven't tried yet, but I'm so going to have an all female cast wine tasting party just for giggles. No shits, that's just nasty.
PFS Not for nothing, but in case you haven't heard, Kim Crawford is a man.
For a chance to win a prize: How many wine tasting parties did I say I was going to have??
Being Grapeful